As most of you know, Our family has been undergoing house construction for the past two years. When we started our venture, friends and family who have done this before here in Mexico told us that this endeavour would take about two to three years. We p-sshhawed them, calling them nay-sayers and cynics and we knew that it would never take that long for
us
. It couldn't. There were ten of us living a the mother-in-law's quarters which were originally designed for two and to say we were squished like sardines is an understatement.
But...here we are, two years later, and we are finally ready to move in.
Which brings me to the reason for this post.
Tip Junkie
is having a virtual home tour and I really wanted to participate, but I wasn't sure what I would post, as we haven't finished moving in quite yet. So...what I've decided to do is post some of my favorite structural details of our new hacienda-style home. It's bare and undecorated, but I'm so excited about starting with this blank (or maybe not so much) canvas and searching for new Mexican decor finds on the way. Here, let me show you...
One of the marks of rustic Mexican decorating is lots of wrought iron. Here are some of my favorites...
A "bug's eye" view of the chandelier in the entryway...
The stairwell in the teenage boy's room...
All of the kids have a second-story loft and in most cases, the kids have to share bedrooms. With the lofts, however, each child will feel like they have their own space.
The vessel sink stand in the guest half bath...
This is a tiny bathroom, so I decided that this sink would be perfect...unobtrusive and beautiful.
Here's a close-up of the sink, painted in typical Mexican-style talavera...
One of my favorite things about Mexican decorating is using color. Check out some of these colors...
The family room...
I was terrified I would choose the wrong orange. Go too far one way and you get a sickly pukey color. Go too far the other way and you can't stand to look at it. After my contractor painted seven different orange swatches on the wall, I choose "Chinese Lantern" (above) and have been in love with it ever since!
The living room...
I've always wanted a room this color, but could never bring myself to go through with it. When it comes to Mexican decorating, though, the brighter the color, the better!
Speaking of bright, check out my laundry room...
Is that not the most
gorgeous
pink you have ever seen? And just wait until the green hickory cabinets are installed. I'm going to have festive folding fiestas
every
day!
Mexico is famous for it's intricate tile work and our contractor is a master tile worker. Look at some of the gorgeous work he did.
The living room...
The master bath...
The stairs going up into the master loft...
The central courtyard patio...
Around the doorways...
The piano studio...
The slate entryway...
The stove area...
Here are some of my favorite fans. We will be using these a lot during the hot Mexican summers and during the winters to circulate the wood-burning stove's heated air back down from the vaulted ceilings.
In the living room...
In the family room...
In the kitchen...
Even though out property is a major construction site, John couldn't resist planting some bulbs in the center courtyard.
Here are some elephant ears...
...and some lemon-scented geraniums. They are engineered to keep mosquitos away and they smell lemony heavenly!
And last, but not least, just a few random things I love...
The upstairs toddler playroom above the kitchen...
One of our couches...
Our pine doors...
A random rooster (bought for $12 down from $72 in a Pier 1 Import outlet in New Jersey. Yes, I got some funny stares as I sat with it on my lap for four hours on the plane.)
A light fixture we got on sale at Lowe's for 75% off...
...and the wrought iron chairs against our green hickory island...
Even if Mexican decor isn't your style, you've gotta admit...It's not boring!
Thanks for joining me on my home tour. I'll be posting more later as things get unpacked, so see you next time!
This post is listed @
Kelli's "Show and Tell Friday",
The Barefoot Mama's "Feminine Friday",
and...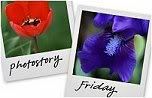 Hosted by Cecily and MamaGeek

Check them out for other great ideas for you and your home!If you liked this post and would like to join me here on a regular basis via email or other reader, please...

Subscribe
(You'll be helping to pay for at least one of the nine kid's college tuition.)
OR... bookmark or share this post by clicking the little beauty below... Thank you for your visit!