...because our new kitchen is now open for business!
It's not completely done, though. We are missing things such as a number of cabinet hardware, some glass inserts for the cabinet doors, and some of the lighting over the sink, island and table, but we have
SOOOOO
much been enjoying having meals in our new kitchen.
Last Sunday we had a dinner party in which we invited twenty family members, including lots of kids. We used our good dishes, cloth napkins and had a
WONDERFUL
time!
(Grandpa is full and wants a nap.)
(The sixteen-year-old boy is perhaps not as thrilled as I am over the dinner party.)
(Okay, now the uncle's peaked his interest!)
(The Photographer for the dinner. She wanted me to make sure I mentioned her and featured her picture here. I was also supposed to upload her vocal video to my blog in exchange for the photo shoot, but it takes at least 45 minutes with blogger, so that will have to wait. Sorry, Kyla, but thanks for the good shots!)
What I really wanted to show on with this post is how easy the clean-up was. I designed the kitchen with two dishwashers...
...and three sinks (one with a built-in drain board)...
...with two commercial-style spray faucets...
...perfect for a group effort clean-up. We were able to load every single dish into these two dishwashers in about fifteen minutes with me working sinks 1 and 2 and dishwasher #1 and the 12-year-old boy working dishwasher #2 and sink #3. It was awesome!
In fact, I enjoyed it so much, I invited the family over for dinner every Sunday (all 20 of them, plus our ten). Whether they're up for that type of partying each week or not, we shall see, but the invitation is open!
If you would like more posts on my kitchen, please comment and let me know. I would love to show you more, but I don't want to be self-absorbed and boring!
To close...if you're hungry on a Sunday afternoon, come on over for lots of food and lots of noise!
This post is listed @
Kelli's "Show and Tell Friday",
The Barefoot Mama's "Feminine Friday",
and...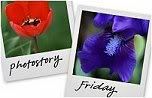 Hosted by Cecily and MamaGeek

Check them out for other great ideas for you and your home!If you liked this post and would like to join me here on a regular basis via email or other reader, please...

Subscribe
(You'll be helping to pay for at least one of the nine kid's college tuition.)
OR... bookmark or share this post by clicking the little beauty below... Thank you for your visit!