...and I had fun with the camera. Here's how it went...
[Hyrum's take]:
Okay, what is this?
Cool. You can wave it around...
[Joseph's take]:
Yeah
you can wave it around! Check this out!
...and you can wave it in dad's face, like this...
What would happen if I were to smack him upside the head?
Awesome! And take that!
...and now smack in the middle of his face...
Yeah. That was fun...
I am pleased to list this post at...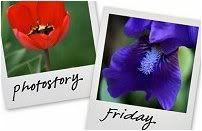 Hosted by Cecily and MamaGeek
Go check out her blog to see her 36-week pregnant-with-twins belly!
If you liked this post and would like to join me here on a regular basis via email or other reader, please...

Subscribe
(You'll be helping to pay for at least one of the nine kid's college tuition.)
OR... bookmark or share this post by clicking the "Add This" button below... Thank you for your visit!