...namely, the promise to respond to the forum thread I initiated entitled "What About Mormonism?". Kristi posed some intelligent questions and comments, each of which deserved well thought out answers. (See the Forum widget a little bit further down on my right sidebar.) My plan was to address each and every question last evening after the kids went to bed, and to include scriptural references from both The Bible and The Book of Mormon. However, life had other plans.
The twins....at 11:42 PM...
Twin B had decided that going to bed at his typical 9:00 was just not for him that evening and had been playing for two hours by this time. Thirty minutes prior to taking the photo, Twin A must have decided that he was missing out and woke up to come play with his brother.
And here is me trying to figure out how to take a photo of myself in the mirror depicting my sad and exhausted countenance...
We'll see what tonight brings, but I'm not going to be deluded into making any promises this time!
I am pleased to list this post @...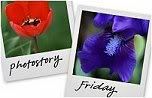 Hosted by Cecily and MamaGeek
If you liked this post and would like to join me here on a regular basis via email or other reader, please...

Subscribe
(You'll be helping to pay for at least one of the nine kid's college tuition.)
OR... bookmark or share this post by clicking the "Add This" button below... Thank you for your visit!